Introducing the Lucid Gravity: Redefining the Electric SUV
The new Lucid Gravity heralds the dawn of a new era for electric Sport Utility Vehicles: an unprecedented combination of attributes previously unseen in a single vehicle and a projected range in excess of 440 miles.¹
Lucid innovations in EV technology and packaging deliver an expansive, luxurious interior for up to seven adults and their belongings, without the huge exterior and poor maneuverability often associated with traditional full-size, three-row SUVs.
Featuring a brand-new SUV platform and next generation of Lucid's award-winning, proprietary electric powertrain, Gravity will deliver an exhilarating driving experience.
Lucid proved its capability in producing an extraordinary, acclaimed luxury EV sedan; now Gravity opens Lucid to the far larger SUV market.
Lucid Gravity lands in late 2024. As with Lucid Air, pricing for Gravity will start under $80,000.²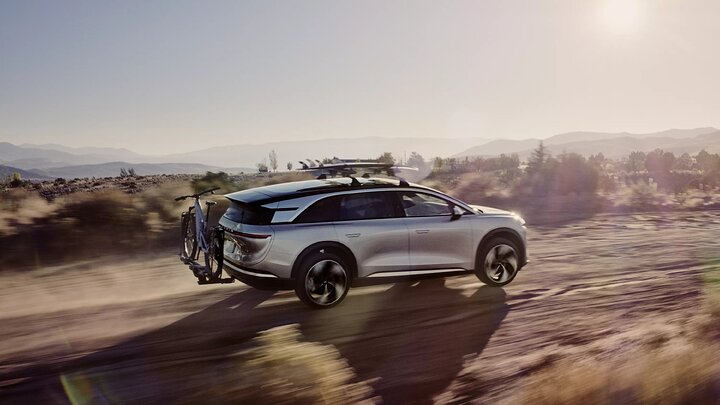 Gravity Design: A Balance of Form and Function
"At Lucid, we believe in pushing the boundaries of design. We have leaned into this belief to maximize spaciousness, aerodynamic efficiency, and utility, resulting in an electric SUV with a previously unseen blend of attributes," said Derek Jenkins, Senior Vice President of Design and Brand at Lucid. "Whether it's a cargo-swallowing SUV for family camping trips or a long-range grand tourer covering hundreds of miles between stops, Gravity is designed to be versatile. Our team's dedication to creating an SUV that seamlessly fuses form and function has resulted in a vehicle that's visually striking, incredibly versatile, and provides an elevated luxury driving experience."
Lucid's commitment to design excellence, spacious interiors, and versatility further sets Gravity apart from the competition. The exterior design choices are a testament to Gravity's fusion of aesthetics and utility. A focus on efficiency has led to a target coefficient of drag of less than 0.24,³ an aerodynamic profile unsurpassed by other three-row SUVs. With a commanding presence supported by a substantial frunk, sleek profile, elongated cabin, pronounced shoulders, and sporty tail spoiler, Gravity showcases its ability to meet the diverse needs of the daily driver.
Inside, Gravity impresses with ample and flexible cargo areas. The cabin offers spacious seating, with the added convenience of second and third-row seats that fold flat to reveal more than 112 cubic feet of total usable cargo space for an effortless combination of comfort and cargo capacity. The sliding second row seats combine with integrated convenience tables for an elevated back-seat experience. Remarkable legroom is carried through to the third row, enabling a comfortable seven-passenger configuration, making it the ideal vehicle for every adventure.
Gravity represents a definitive evolution of Lucid's user interface, called Clearview Cockpit, featuring an intuitive 34-inch curved and uninterrupted OLED display that floats above Gravity's innovative new steering wheel, closely matched with the driver's line of sight. Lucid's Pilot Panel returns in Gravity with a quick access touch bar and sitting alongside a new glass center console that elegantly slides open for additional storage. This SUV also introduces Lucid's next-generation software with over-the-air updates, ensuring continued vehicle improvement.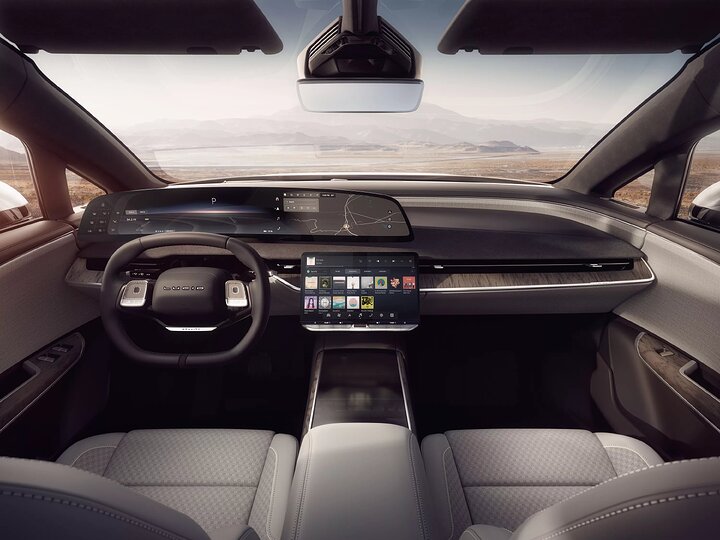 Sports Car Performance and Lucid Driving Range
Gravity's exceptional performance starts with a brand new platform developed from the ground up as a sporty SUV. This is seamlessly integrated with the next-generation of Lucid's proprietary, ultra-compact powertrain technology, including the most power-dense EV motors in production globally, and an evolution of its 900V electrical architecture. Gravity is not just a luxury SUV; it's a powerhouse, accelerating from 0-60 mph in less than 3.5 seconds while providing a substantial payload capacity of over 1,500 pounds and an additional 6,000 pounds of towing capacity.⁴
With the Gravity SUV, performance extends beyond paved roads as Lucid introduces Zero Gravity, an enhanced optional air suspension package that automatically adapts to various terrain needs, ensuring a smooth and comfortable ride on any surface. Manual adjustments also offer the ability to raise Gravity to maximize off-road capability or lower it to maximize performance and range.
"Lucid's design and engineering philosophy has always prioritized doing more with less. Gravity applies this principle to offer customers more of what they need – more space, more utility, and more range – while avoiding excess battery cells, added cost of ownership, and unnecessary weight," said Eric Bach, Senior Vice President of Product and Chief Engineer at Lucid. "We believe in pushing the boundaries of what's possible, and with a battery pack about half the size of some competitors, Gravity is an environmentally friendly, versatile electric vehicle with the spirit of a supercar."
The Gravity SUV is not just efficient; it sets new standards for SUVs with a smaller, lighter, more sustainable battery pack while offering exceptional range, projected to be in excess of 440 miles.¹ Gravity adopts an evolution of the company's renowned over 900V architecture and ultra-fast charge rates, making it one of the fastest EV charging systems globally. Customers can add up to 200 miles of range in about 15 minutes,⁵ ensuring convenience and minimal downtime during long journeys. Lucid Gravity sets a new benchmark for SUVs, proving that efficiency, luxury, and high performance can coexist.
"Gravity will take our customers farther with less batteries and therefore using less precious energy," added Rawlinson. "Its smaller, lighter, and higher technology battery pack means fewer precious metals and minerals, less energy to charge, less electricity consumed, less pressure upon the grid, and a lighter weight and more dynamic vehicle. When we say we're here to advance the technology, this is what we mean – this is truly sustainability in action."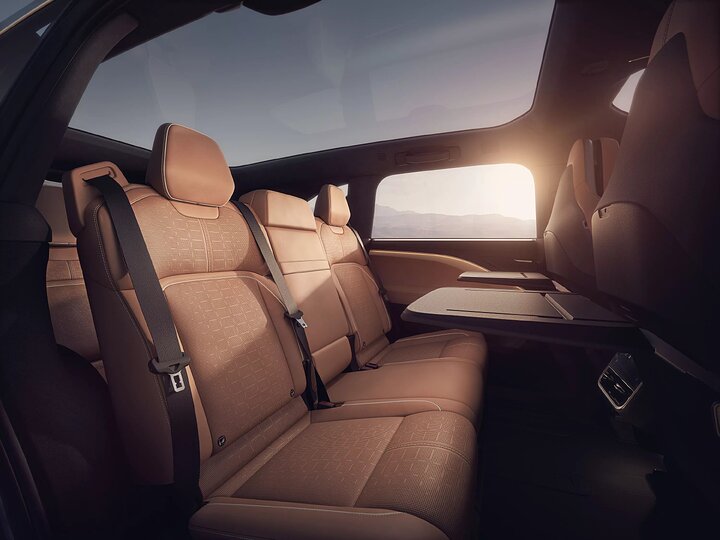 The Gravity Human Experience: Beyond Surface Luxury
Gravity's luxury in-car experience is exceptional, designed for both the body and the mind. From meticulously chosen materials, exceptional fit and finish, and thoughtfully placed accents, every aspect of Gravity has been sustainably crafted with intention and eco-consciousness. Furthermore, a holistic human experience not only caters to immediate senses, but also prioritizes wellbeing. With the introduction of interactive wellbeing features such as Lucid Sanctuary and Lucid Spaces, every experience in Gravity is taken to a new level. Lucid Sanctuary is a revolutionary set of experiences carefully designed to introduce tranquility on the go, whether you're on the road or parked at a charging station. With Lucid Spaces, a single tap transforms the cabin into a serene oasis, immersing drivers in the soothing atmosphere of locations like Lake Tahoe or Joshua Tree. Lucid has also partnered with experts at Meditopia to offer a guided meditation experience that provides a personal space for mindfulness, without exiting the vehicle.
Pricing and Availability
With a focus on delivering the most advanced technology and best electric vehicle experiences to the broadest audiences possible, Gravity will be competitively priced in the full-size premium SUV category with an expected starting price under $80,000.² Production is expected to begin in late 2024.
Gallery