Kia presents global EV strategy at 'EV Day', set to be held annually
Acceleration of 'EV revolution' with expanded EV model line-up and charging infrastructure growth
Kia unveils three new small- to medium-sized electric models
The Kia EV5: Production electric compact SUV designed to meet needs of millennial families
The Kia Concept EV3: Kia's vision for an electric compact SUV that's both practical and joyful to drive
The Kia Concept EV4: Redefines the electric sedan shaped by 'Opposites United' design philosophy
Kia to elevate customer experience with integrated app, offline hubs, and generative AI technology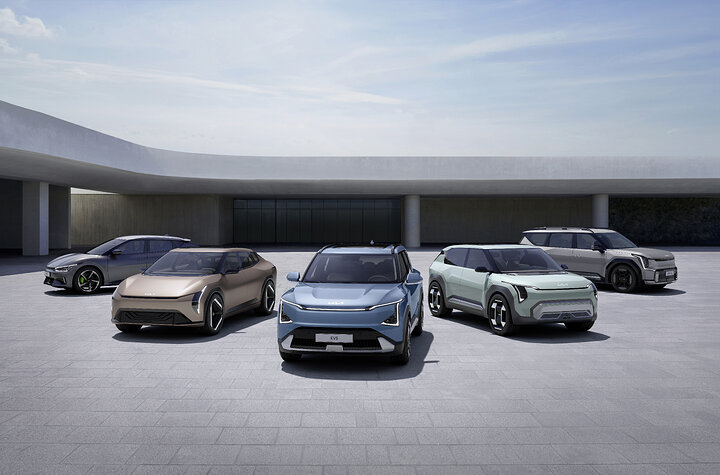 Kia Corporation has today unveiled three new small- to medium-sized electric models at the brand's annual Kia EV Day in Korea, reaffirming its ambitious global strategy to lead and accelerate the 'EV revolution'.
During the event, the brand presented its vision of 'EVs for all' and strategy to expand its EV model line-up significantly and rapidly. Having successfully established itself as an electric vehicle brand with the launch of the EV6 and EV9, it has illustrated how it is now broadening its model line-up further with three new small- to medium-sized electric models that offer more people greater options and access to EVs**.**
The presentation featured the debut of the EV5, a compact electric SUV for millennial families, as well as the introduction of two concept models. The Kia Concept EV3 aims to deliver the Kia EV9's benefits in a compact SUV, while the Kia Concept EV4 reimagines electric sedans with a striking design. In addition to unveiling the lineup, the event showcased Kia's EV strategy, aimed at improving customer convenience, reliability, and addressing common concerns, including charging infrastructure.
"Kia is keenly focused on providing solutions to the concerns that continue to cause hesitation when it comes to making an EV purchase. We will meet customer expectations by offering a full line-up of EVs at various price points and improve charging infrastructure availability," Ho Sung Song, President and CEO, said.
"As a sustainable mobility solutions provider, Kia's transition to electric vehicles is a must, not an option. By developing advanced EV technology, bold design, and intuitive services, and applying them to our entire EV line-up, our ultimate aim is to provide Kia's unique value to as many people as possible. The acceleration towards electrification begins now."
The brand has also unveiled plans to improve various customer experience offerings. This includes streamlining different functions into a user-friendly smartphone application, introducing new services at their physical locations, and providing customers with in-vehicle artificial intelligence (AI) services.
"Kia aims to provide sustainable mobility solutions and fulfill the needs of our customers by eliminating perceived difficulties. We want to make the entire customer journey, from digital to offline to in-vehicle interactions, as effortless and enjoyable as possible. This includes the stages of pre-purchase, purchase and post-purchase," Charles Ryu, Head of Brand and Customer Experience Division, said.
"We will continue to fulfill the needs of our customers through new digital platforms and technologies so that we can keep finding better ways to move forward. Because at the core of Kia's DNA lies our promise to offer more advanced sustainable mobility solutions that improve people's lives."
The brand's goal is to achieve an annual sales target of one million electric vehicles by 2026 and increase it to 1.6 million units per year by 2030, driven by the products and initiatives revealed today.
Kia's EV strategy: Expanding EV line-up and charging infrastructure to make EVs more accessible to customers
Kia announced its plan to develop a wide-ranging EV line-up priced from $30,000 to $80,000, featuring existing models such as the EV6 and EV9, as well as future offerings tailored for the popular B- and C-segments. The brand aims to introduce smaller EVs like the EV5, EV4, and EV3, with prices ranging from $35,000 to $50,000, to accelerate the widespread adoption of EVs.
In emerging markets with slower EV adoption rates, the initial launch will focus on the EV6 and EV9, with subsequent releases of strategic models including the EV5, EV4, and EV3. This approach aims to diversify product offerings and cater to various customer preferences.
Efforts are underway to establish a reliable system for EV production and battery supply, with the brand's goal of expanding its global EV production facilities to a total of eight by 2025. These facilities will encompass research, development, production, and supply, with Korea serving as the central hub. In Europe, it will focus on the production of small and medium-sized EVs, while in China, the emphasis will be on mid to large-sized EVs. Strategically designed EV models tailored for emerging markets will be produced in India. Kia also plans to introduce a diverse range of EV models in North America, in response to the Inflation Reduction Act (IRA).
Furthermore, the brand is actively establishing battery joint ventures to ensure a stable global battery supply system in sync with its global EV production network.
Kia EV model line-up: A rapidly expanding comprehensive range of models to meet diverse customer needs
Each EV model plays a key strategic role in accelerating the EV transition by expanding the appeal and democratization of EV models to an ever-broadening customer demographic.
While each model is created uniquely to meet specific and diverse customer needs, they share common elements such as the brand's cutting-edge electric platform technology, the innovative 'Opposites United' design philosophy, and the brand's sustainable color, material, and finish (CMF) strategy. The latter entails incorporating sustainability at scale through action, such as using ten must-have sustainable items in the construction of each model, including bio plastic, bio paint and recycled PET or fishing net carpet.
The Kia EV5 SUV: Designed and engineered to meet the needs and desires of millennial families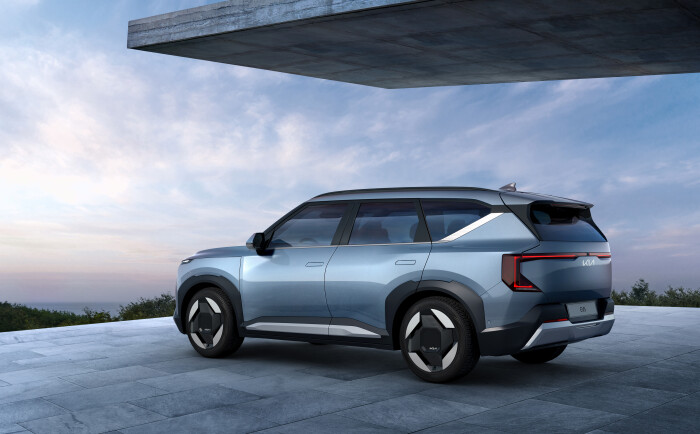 The Kia EV5, the third dedicated BEV in its line-up, is built on the brand's dedicated EV platform, E-GMP. It introduces a new era of electric mobility and distinctive SUV design. Featuring a form shaped by the brand's unique design philosophy 'Opposites United', it combines exceptional versatility and outstanding comfort with advanced technology, dynamic performance, and pioneering safety to deliver a harmoniously balanced vehicle.
The EV5 features an interior that completely reimagines the vehicle's interior space. Drawing additional inspiration from the recently launched larger EV9 SUV, it offers an extensive interior space that is closer in concept and execution to a home lounge than a traditional car cabin.
Electric Powertrain and Driving Experience
The EV5 will be offered the company's dedicated EV platform, E-GMP, providing a solid foundation for the vehicle's performance and contributing to its excellent overall driving dynamics.
Production of the EV5 will take place in both China and Korea, and the Chinese market will have access to three variations: standard, long-range, and long-range AWD.
The standard model, equipped with a 64kWh battery pack and a 160kW motor, is expected to have a driving range of 530km per charge according to the China Light Duty Vehicle Test Cycle (CLTC) standards. The long-range model, featuring an 88kWh battery and the same 160kW motor, aims to achieve a range of 720km per charge. The long-range AWD model will feature an 88kWh battery pack and a combined output of 230kW, with a front-wheel 160kW motor and a rear-wheel 70kW motor. With AWD model, Kia is targeting a driving range of 650km based on the CLTC standards. Additionally, the model offers fast-charging capability, allowing the battery to be charged from 30% to 80% capacity in just 27 minutes.
For Korea, all variants of the EV5 models, including standard, long-range, and long-range AWD versions, are in development, with potential adjustments being considered. The standard model will have a 58kWh battery and a 160kW front motor. The long-range model will feature an 81kWh battery and the same 160kW front motor. The long-range AWD model will include an extra 70kW rear motor, resulting in a combined power output of up to 225kW. The driving range of each model will be tailored to meet market demands.
The EV5 battery has been engineered to function effectively throughout all four seasons, even in extreme hot and cold weather. An advanced heat pump system, an already popular feature of the EV6, has been incorporated into the EV5 to manage the battery's temperature, ensuring consistent performance regardless of external conditions.
It will offer regenerative braking system and an i-Pedal system that allows drivers to both slow down and accelerate using a single pedal, thereby minimizing fatigue, and enhancing the comfort of driving.
"The EV market is expanding from one catering to the smaller early-adopter group to a more broader mass majority of customers. As a leader in the great EV transition, we have quickly expanded our EV line-up beyond the EV6 and EV9 to include a variety of small- and medium-sized models such as the EV5. Our competitive, growing EV line-up will accelerate the popularization of electric vehicles and provide consumers with more options from which to choose," Spencer Cho, Head of Global Business Planning Sub-Division, said.
"The Kia EV5 is not just the next addition to our rapidly expanding EV line-up, but also the embodiment of how we will accelerate the EV revolution. For us, it is the perfect representation of both our future EV strategy and our commitment to accelerating the worldwide transition to EVs."
The EV5 will also be available in a GT, offer further performance features and engaged driving experience. More information regarding the EV5 GT trim will be revealed later.
Infotainment and Connectivity
The EV5's spacious, light, well-ventilated cabin is equipped with cutting-edge infotainment and connectivity technology that enhances efficiency and convenience on every journey while enabling occupants to remain safely engaged with the digital world as they travel.
It is equipped with the connected car Navigation Cockpit (ccNC) infotainment system and supports over-the-air software updates. It incorporates a Panoramic Wide Display, which combines a 12.3-inch cluster and 12.3-inch infotainment system, along with a 5-inch climate control display. These features provide the driver with comprehensive information and content for a convenient and immersive driving experience.
The brand's new Unified Graphical User Interface (GUI) is applied between the audio-visual, navigation, and telematics (AVNT) screens, and the CDU ensures enhanced information display consistency. Simple-to-navigate menus provide improved usability of EV-specific functions and enable drivers to monitor aspects such as range and EV charging at a glance. The seamless flow of information is further augmented by an optional windshield HUD (Head Up Display).
Throughout the cabin, physical buttons are kept to a minimum. Beneath the central AVNT screen, four hidden hard keys provide a start/stop function along with AVNT and heating, ventilation, and air conditioning (HVAC) control; previously, these systems would have required 17 buttons to control.
The three-zone climate control system enables individual control for the driver, front passenger, and second-row occupants, while an after-blow feature reduces air conditioner odors, ensuring a pleasant cabin environment for all occupants.
Customers can keep their EV5 constantly updated by upgrading the SUV's digital features and services without any need to take the vehicle to a dealership. Beyond the standard features, the Kia Connect Store offers a wide array of options to add to the vehicle's performance and enjoyment of the user experience.
Safety and Convenience Features
The EV5 is equipped with seven airbags in total. In addition to the state-of-the-art seatbelt technology, its structure is engineered for optimum strength. Naturally, it is offered with the brand's latest Advanced Driver Assistance Systems (ADAS) and a range of active safety.
The model comes with Highway Driving Assist 2 (HDA2), which helps drivers maintain distance, stay centered in the lane, change lanes, and adjust lateral positioning.
With a simple touch of the Kia Digital Key 2 smart key, customers can activate the vehicle's Remote Smart Parking Assist 2 (RSPA 2) system. This technology enables the SUV to park itself without the need for driver intervention, whether in or out of the vehicle. Also, the smart exit function and a remote forward and reverse function provides drivers with added peace of mind when navigating tight parking spaces. These features contribute to a more relaxed and enjoyable driving and parking experience.
Using ultrasonic sensors to detect obstacles, the RSPA 2 automatically maneuvers the vehicle into the designated parking space, controlling the accelerator, brakes, and gearshift. The system also automatically applies the brakes if an object representing an obstruction is detected in its path. It also features Rear Cross-Traffic Collision-Avoidance Assist (RCCA) to prevent collisions with oncoming vehicles when reversing.
Efforts are being made to enhance energy utilization in the EV5 by incorporating Vehicle-to-Load (V2L) and Vehicle-to-Grid (V2G) functions. With V2L, the high-voltage battery can supply power to external electronic devices. Kia will concentrate on rolling out V2G in regions where the necessary infrastructure exists, enabling surplus battery energy to be shared with the grid.
Multiple seating configurations
The EV5 is available with a choice of seats featuring eco-friendly recycled PET fabric and Bio-PU leather coverings. This innovative approach elevates the EV5's spacious cabin from somewhere for occupants to sit while travelling, into an ultra-comfortable, highly practical, and inspiring environment that meets the needs of millennial families and ensures an enjoyable experience every time they enter the vehicle.
At the front of the vehicle, bench-type seats (Chinese market only), combined with mood lighting, provide a comfortable space for occupants. The center console armrest also incorporates a table and storage, adding to the vehicle's usability.
The reclining seats are designed to prevent back and spine discomfort with their continuously adjustable back angle. Relaxation seats feature a four-mode massage function with three levels of intensity, enabling occupants to choose their individual sweet-spot setting during charging, leaving them feeling fully refreshed when they resume their journey. Comfort seats provide exceptional levels of enhanced wellbeing, thanks to six massage air cells, four-way lumbar support, a three-step heater and ventilation function and a footrest. The model's safety seats, equipped with three airbags and a four-way adjustable headrest, provide optimum occupant protection.
On reaching their destination, families can effectively transform the rear of the vehicle into a bedroom thanks to the 0-degree, full-flat folding second-row camping seat. They can enjoy pre-purchased food stored in the rear console refrigerator/warmer. The unit provides food warming and beverage cooling functions with a temperature range of 5 to 55 degrees Celsius and a 4.0-liter capacity. It can be used in numerous ways, such as keeping takeout breakfast warm during commutes, heating beverages like tea and coffee, and storing ice-cold drinks and water during summer camping trips.
Naturally, the EV5's interior designers have also thought of a feature to enable occupants to enjoy their food, whether they choose to dine alfresco or in-cabin. It takes the form of the highly versatile Multi Table luggage board, which can instantly be transformed into a table.
The Kia Concept EV3: Providing the technology, practicality and design of the flagship SUV in a compact form
The Concept EV3 represents the brand's vision for an electric compact CUV that effortlessly blends practicality with the sheer joy of driving. It offers users the technology, practicality and design of Kia's flagship SUV, the EV9, in a compact and accessible form. While those qualities might seem incompatible to some, delivering creative, groundbreaking design solutions by fusing seemingly contrasting sources lies at the heart of Kia's 'Opposites United' design philosophy. And in the case of the Concept EV3, Kia's designers have drawn a high degree of inspiration from the 'Joy for Reason' pillar of the design philosophy.
"Joy can be seen as the antithesis of reason. One is a positive, emotional response, and the other is derived from logic. When the two are combined, though, their contrasting qualities merge into a powerful and highly impactful design," Karim Habib, Executive Vice President, and Head of Kia Global Design Center, said.
"With the Concept EV3, the 'Joy for Reason' influence is evident in the contrasting qualities of a robust body combined with a dynamic silhouette. In addition, the unexpected treatment of volumes and graphics simultaneously interlock with each other, creating a logical yet emotional design."
The design treatment of the cabin, with the windscreen pushed forward and the long sloping roofline, creates a unique silhouette. The robust architecture of the squared wheel arches, cut with asymmetrical angles, results in an unexpected logic and a strong impression. This, in turn, is contrasted by the wrap-around windscreen and disconnected C pillar, which link the glasshouse surfaces and give the roof a floating effect.
Inside, the Concept EV3 blends exceptional practicality with transformative cabin ambience and design. As with the vehicles' exterior, the 'Joy for Reason' pillar plays a fundamental influencing role, merging seemingly opposing values to execute a precise product design language, resulting in a cabin that feels joyful to travel in, while providing ample space to support an active lifestyle once occupants reach their destination.
Its cabin also provides an environment that promotes emotional wellbeing. Enhanced by soft mood lighting, the compelling, ultra-clean shape and surface of the dashboard, crafted through exquisitely refined character lines, creates an expansive visual sense to offer up the possibility of boundless opportunities on every journey.
Advanced ergonomic seat design and environmentally friendly materials, in keeping with the brand's ethos of achieving sustainability at scale, combine with mini tables that rotate in length, position, and angle. In conjunction with the movement of the seats, the tables support four customer experience-enhancing modes – Focus, Social, Refreshing and Storage. The folding bench-type rear seat is equally flexible and can be effortlessly folded upward, allowing for storing bulky luggage such as electric scooters and bicycles.
The Kia Concept EV4: Redefining the essence of the EV sedan
The Concept EV4 represents the purity of the 'Power to Progress' pillar of the 'Opposites Untied' design philosophy. 'Power to Progress' focuses on the skills, expertise and creativity developed during Kia's recent era of design-led transformation. This approach fuels the creation of innovative products that transcend the establishment of new standards for individual vehicle design to redefine entire sectors. Such is the case with the Concept EV4.
Its four-door format might suggest it should be categorized as a sedan. However, the model's potent and impactful lines represent not just another sedan, but an entirely new type of EV sedan that stands as a symbol of innovation.
Inspired by the 'Power of Progress' and manifested through a harmonious fusion of confident, geometric diagonal character lines and rich yet technical surfaces, the Concept EV4 represents a new value, approach, customer experience, and typology. Aspects such as the evocative sleek low nose, the elongated, dynamic long-tail silhouette, and the technical roof spoiler, all attributes reminiscent of sports and racing cars, affirm the EV4's status as an entirely new type of EV sedan.
An aggressive facial impression complements the Concept EV4's progressive, technological silhouette. Featuring a wide, imposing stance, with headlamps located vertically at the extreme outer edges of the hood and front bumper, the model further symbolizes the brand's determination to push boundaries and accelerate the EV Revolution.
The interior features a sleek and spacious horizontal layout, incorporating stylish design elements that prioritize the driver's experience without obstructing their view.
To achieve this, Kia designers have placed an air conditioning control panel that can be neatly stored in the center console when not in use and applied pin-style air vents that offer the flexibility to change patterns, among other refinements to the interior design.
The cocoon-like ambience of the cabin enables the driver to engage with the vehicle in a new and unobtrusive way. Presented via twin digital screens, a slimmed-down instrument panel delivers subtle levels of driver orientation, helping clear the mind from distractions and prepare for upcoming tasks.
The Concept EV4 comes with a new 'Mind Modes' feature that adjusts ambient lighting and animated ventilation patterns. In 'Perform' mode, the driver is presented with all the information they require to perform at their optimum and get the most out of their day. In contrast, 'Serenity' mode offers a range of digital graphics to create a more relaxed ambience for reflection and restoration.
Expanding charging infrastructure
Looking to help address the ongoing challenge of reliable and available charging infrastructure, the brand is actively expanding global charging networks. In North America, Kia has announced its decision to adopt the North American Charging Standard (NACS) for their EVs starting from the fourth quarter of 2024. This move will grant Kia customers access to approximately 12,000 Tesla Superchargers.
As part of a coalition of six OEM groups, Kia is working to build 30,000 fast-charging stations across North America by 2030 to address charging accessibility concerns. In Europe, it has collaborated with four OEM groups to create IONITY, installing 2,800 fast-charging stations along key highways. The aim is to have a total of 7,000 operational stations by 2025, providing efficient charging options for the brand's EV owners.
Kia's new EV experience: Elevating the customer journey to the next level
To accelerate the EV revolution and provide a diverse and comprehensive offer to all its customers, the brand will leverage all aspects of the customer journey, thus ensuring the adoption of EVs is as convenient and effortless as possible. This strategy involves optimizing every single customer touchpoint, from pre-purchase to ownership experience.
In the first half of 2024, the 'Kia App' is scheduled for release, with the aim of offering customers with a comprehensive and hassle-free experience, from vehicle research and test drives to contract finalization.
The app will include an AI chatbot to help customers with their questions and provide quick responses. It will also offer insurance premium discounts linked to insurance products. The standout feature of the app is the 'E-routing' function, which uses the current battery status of the vehicle to suggest the best route, considering charging stations. The app's home screen will display location-based information, like nearby restaurants, to improve the user experience. Customers can conveniently manage the charging port and monitor real-time charging status on the home screen using the 'Handle Layer' feature in the app.
Kia also aims to enhance offline customer experiences to highlight the advantages of EV models, with existing efforts like the 'Digital City Store' and 'EV Unplugged Ground' in Korea, as well as the 'City Store' located outside Korea. Future plans to establish exclusive EV stores in the United States, Europe, China, and India.
Harnessing virtual reality (VR) and mixed reality (MR) technologies, the aim is to provide immersive experiences that motivate customers to engage more deeply with the products. Efforts will also focus on improving the customer service capabilities of global sales representatives in the EV sector and introducing product specialists tailored to specific regions, enabling personalized consultations and test drives aligned with each area's unique characteristics.
Kia is set to embrace generative AI technology to revolutionize the in-vehicle experience, including partnering with top generative AI model providers to roll out innovative services. This will allow customers to access a wide range of services like schedule management, electric vehicle route optimization, travel planning, entertainment, and emergency support by simply engaging in conversations with the generative AI assistant.
Generative AI technology will debut in the 2024 EV3 model, with subsequent integration into the EV4 and EV5, and continuous enhancements via over-the-air updates.
Future EV Days
Going forward, Kia will continue to showcase new electric models, concepts, and groundbreaking technologies at EV Day each year and leverage the event as a platform for the brand to present its progressive EV strategy and vision for future mobility.
※Editor's note: Product specifications and availability may vary depending on the region and country.
[1] Product specifications for the Kia EV5 may differ based on the region and country.