Sony Honda Mobility Inc. (SHM) announced its new brand "AFEELA", and unveiled a prototype as a new type of mobility, at CES® 2023 which opens to the public in Las Vegas, Nevada, USA and online from January 5, 2023 (Thursday) local time.
Prior to the public unveiling, Representative Director, Chairman and CEO Yasuhide Mizuno took the stage at a press conference held on Wednesday, January 4 (local time). A summary of his speech at the press conference follows:
SHM strives to become a Mobility Tech Company that will pursue innovation in mobility by combining cutting-edge technology and passion along with people who pioneer the future with their creativity, based on our corporate purpose "Move people, through the pursuit of innovation with diverse inspirations."
SHM announces its new brand, "AFEELA," along with the unveiling of a prototype that demonstrates a new relationship between people and mobility.
Towards realizing safety and security: Our prototype is equipped with a total of 45 cameras and sensors inside and outside the vehicle, together with 800 TOPS of maximum computing power for ECU.
Mobility space into entertainment space by seamlessly integrating real and virtual worlds. To begin with, SHM has started to build new values and concepts for mobility with Epic Games.
SHM will develop the production model based on this prototype. Pre-orders are planned to begin in the first half of 2025, sales by the end of 2025, and delivery from spring in 2026 in North America.
To advance the intelligence of mobility, SoCs from Qualcomm Technologies' Snapdragon Digital Chassis will be used in key features including AD/ADAS, HMI/IVI, and telematics. SHM is building a strategic technology partnership with Qualcomm Technologies to realize next gen mobility experience.
SHM begins collaboration with Epic Games to create new value in mobility services and entertainment.
[Prototype Features]
Exterior:
AFEELA's exterior features "Media Bar" which allows intelligent mobility to express itself to surrounding people using light, enabling interactive communication between mobility and people.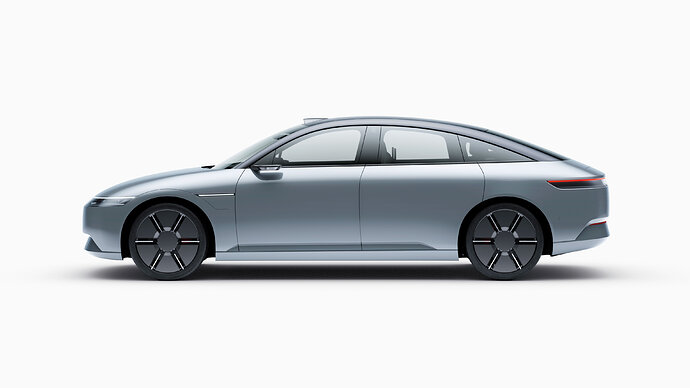 Interior:
The interior is based on a gentle rounded tone, wrapping the occupants in a soft cocoon. Not only is the atmosphere comfortable, but has been designed to be as simple as possible, minimizing distracting ornamentation and colors. We aim to realize a people-centric experience that provides functionality that people want.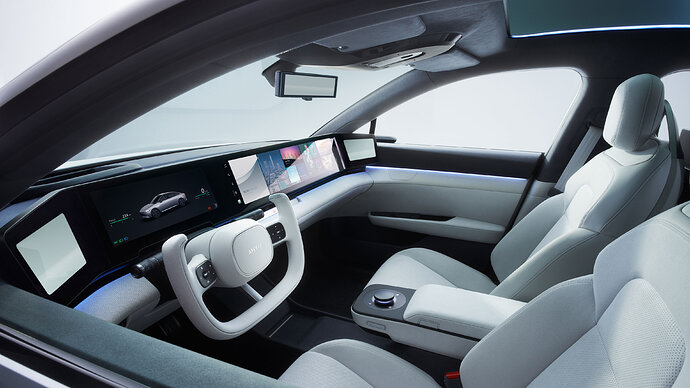 4. A Glimpse of SHM's value-added concepts based on 3A's (Autonomy, Augmentation, Affinity)
Autonomy
We will provide pleasant mobility space founded on safe and secure technologies.
We aim to develop Level 3 automated drive under limited conditions and to enable Level 2+ driver assistance in even more situations such as urban driving.
We plan to use the SoCs1 from Qualcomm Snapdragon Digital Chassis for 800 TOPS2 maximum computing performance as hardware.
Our prototype is equipped with a total of 45 cameras and sensors inside and outside the vehicle. In-car cameras and Time-of-Flight (ToF) sensors*3 detect the driver and car's situation to help avoid accidents.
Augmentation
A new HMI*4 will be introduced, providing a personalized in-car experience through cloud-service connectivity, realizing entertainment beyond driving.
We aim to evolve mobility space into entertainment and emotional space, by seamlessly integrating real and virtual worlds, and exploring new entertainment possibilities through digital innovations such as the metaverse. We have started to build new values and concepts for mobility with Epic Games.
We aim to provide intuitive navigation through augmented reality (AR) using our sensing technology.
Affinity
We will build an open community for not only customers, but our automotive industry partners, leading players in other industries, and the creative community which will take on the challenge with us to create new mobility entertainment.